You've probably heard that Facebook groups are an excellent way to reach specific and niche audiences. In this article, you will learn how to get ads in Facebook groups, so that you can tap into this important marketing channel for your business. After reading this article, you should be able to develop a strategy for using Facebook groups as part of your ongoing social media advertising strategy.
Most brands and businesses use Facebook groups to stay connected with their customers. But what it can do for a community goes beyond just keeping in touch with your audience. In addition to a branded page, you can also create a group on Facebook as a way to connect with your target audience. Businesses have many reasons why creating a group is ideal for building brand awareness and reaching their customers. From sharing content to scheduling events and news updates, here's everything you need to know about ads in Facebook groups.
What are Facebook groups and why are they important?
Facebook groups are social media communities that are centered around a specific topic or theme between group members. There are groups for just about everything you can think of, from hobbies to specific industries. In total, there are billions of users who engage with these groups on a regular basis, making them a great way to build your audience and get your content in front of people who are interested in what you have to say.
What is an ad in a Facebook group?
Every time you post something to your Facebook group, it's called a post. This can either be a link to a blog post, an offer, a poll, or any other type of information. You can also make a post in a group with a picture or an ad from one of your Facebook advertising accounts.
When you make a post in a group, it may show up in different areas for different people, depending on their settings. When you make a post and add an ad, the ad will show above your post. This ad will have a CTA (call-to-action) like "click here" or "learn more". Ads can be different for every group that you post them in, as well as for every person who sees them.
How to Create Ads in a Facebook Group
To create ads in the Facebook groups, you'll first need to find a relevant Facebook group. You need to read and agree to follow the group rules. For the most part, you can select any Facebook group to run ads in, though you're more likely to be successful if you find a group that is specific to your business or industry. You'll want to be strategic and target groups that are large enough to be relevant but small enough to be manageable.
Once you've found a group, you'll want to create an ad. Facebook is a bit more lenient as compared to other platforms when it comes to ad creation, but there are a few things you'll want to keep in mind.
First, you'll want to use a compelling image. You can also use images that link to your website if you're trying to drive traffic to a specific group page. Next, you'll want to write a compelling and engaging headline. Make sure your headline is relevant and specific to the group you're advertising in.
Finally, you'll want to write an engaging description. Your description should be short but also include all of the relevant details that people would want to know when deciding whether to click on your ad or not.
Ad Types for Your Target Audience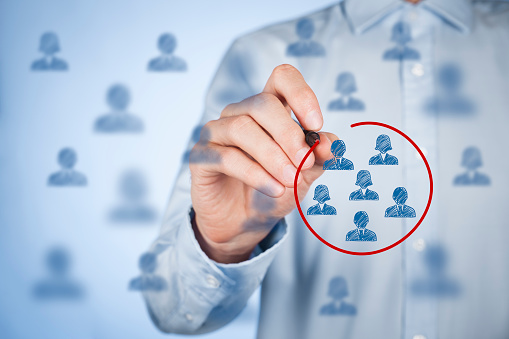 If you're thinking of creating a group on Facebook, you're probably wondering how ads can help you. Let's take a look at some different types of ads you could use in your Facebook groups. While you can use any of these types of ads, you must first understand your target audience in order to make them work effectively.
Image Ads
These ads are great for educating and inspiring your audience. You can use them to share images, product images, or anything else. Ideally, they should be high-quality images that are relevant to your audience.
Carousel Ads
These are great if you have a lot of content to share but don't have time to create new ads for each post. They allow you to create an ad with multiple images, videos, or even a combination of both.
Breakout Ads
Breakout ads are designed to capture attention and drive clicks or conversions. They appear above the organic content and appear once per day per person. Breakout ads can appear in every type of Facebook ad format and can link to either a website or a Facebook page.
Sponsored Messages
Sponsored messages are similar to ads, but are only sent to people who are already in your groups. They're a good option if you want to advertise to your existing group members, but don't want to annoy them with frequent ads.
Tips to Succeed with Ads in FB Groups
When you're ready to add ads to your Facebook group, you should be prepared to spend money. However, while Facebook ads are an investment, they don't necessarily have to break the bank. There are a few things you can do to make the most of your budget and maximize your ROI (return on investment).
Create Different Ads for Different Groups
This will help you to reach different audiences.
Use Different Images in Your Ads
Studies show that images are important to Facebook ads, so create different images and see which ones perform best.
Create Different Ad Types
Try to do this even if you're creating ads for the same audience.
Create Several Ads at Once
You can create many ads and then test which ones work best. This will help you to get the most from your budget.
Create an Ad Campaign
An ad campaign is helpful when you want to reach a certain audience. This will help you to track your results and see which ads work best.
How to Build Your Audience Using Facebook Groups
One of the best ways to build your target audience using Facebook groups is to simply join groups and engage with people. Post thoughtful comments on relevant topics and respond to other members' questions and posts.
The post will go through the Facebook group admin so it must follow the group rules. You can also try posting your own links and content on other Facebook groups. Facebook group marketing can be a great way to get your content in front of a new audience.
Another great way to build your audience using Facebook groups is to create your own group. It can be private groups, secret groups, or public groups. You can invite Facebook users and encourage members of other social media platforms to join your group by encouraging discussion and other marketing strategies.
Creating a new Facebook group is relatively painless. You can find step-by-step instructions in Facebook's help center. The trick, however, is to attract people to your group. One way to do this is to offer something of value to people who join your group. You can also try promoting your group or asking people to join your group.
Why You Should Care About Facebook Groups
Facebook groups are a great way to get your content in front of a very specific audience. This can be helpful for driving traffic to your website, increasing brand awareness, and growing your email list.
Getting ads in Facebook groups is relatively straightforward. However, it can be hard to know when to post and what to post in order to be successful. To make the most of your ads, you'll want to know what times are best for posting, what content works best, and how to promote your posts.
Wrapping Up
Above all, the most important thing is to remember that Facebook groups are where people want to engage with each other, not with brands. Therefore, it's important to offer something of value to the members of your groups. If you can do this, you will not only earn their trust, but you will also increase your brand awareness.
To get the most out of Facebook groups, you'll want to find the right group, create engaging and appropriate content, and post at the right times. Keep these things in mind when planning your Facebook group posts, and you should be able to build a substantial audience in no time.